Holistic Wealth Planning: A Business Plan for Life
The most effective wealth management strategy is one that integrates and coordinates all forms of financial planning. That's why your team at The Dowling Group will include CFP, CPA, CFA, and legal professionals, who will work together to craft a plan that suits your specific needs. Once that is in place, it allows you to enjoy the present — guiltlessly!
A wealth management plan at The Dowling Group integrates:
Cash Flow: To fully understand and quantify your situation, so we can design a plan that works toward your goals while supporting your current lifestyle
Tax Planning: To keep more of what you earn by minimizing income tax and proper reporting
Investment Positioning: To grow your assets in a dynamic market
Risk Management: To insulate you from the unexpected
Estate & Trust Planning: To protect your legacy and ensure it passes, intact, to your beneficiaries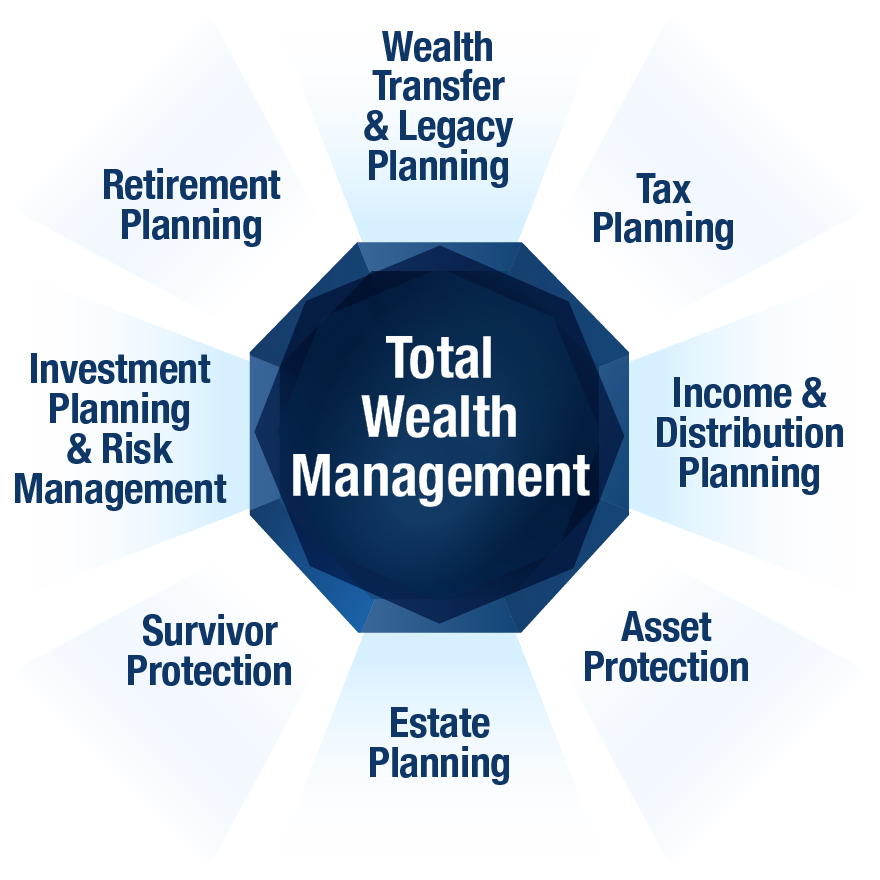 Your investment plan should be as unique as your fingerprint. Don't settle for something generic.
Get Started
Our Principles Set Us Apart
When choosing a financial advisory firm, it's important to understand where its true interests lie. How broad is their product offering? When do they get paid? Who do they serve? We structured our firm so that our advisors could be 100% client-focused, by keeping to these principles:
Transparent
The Dowling Group is a client advocate: Our advice begins and ends with your specific goals. Our fees are clearly defined. We do not waste your time with products you don't need.
Other advisors have a conflict of interest: Their advice is based on whatever products they sell. Their compensations are from commissions on those products.
Dedicated
The Dowling Group has a fiduciary responsibility: We follow the fiduciary standard, which means we are legally obligated to act in your best interest.
Other advisors must please their employer: A non-fiduciary advisor must, ultimately, create value for his employer (and its shareholders.) His client's needs are secondary.
Rigorous
The Dowling Group recommends the best choice for you: We thoroughly analyze your financial situation on an ongoing basis. If it makes sense to stay the course, we will advise you to do so.
Other advisors look to move money: Your case isn't considered much different than any other client's. You're offered whatever products are available that month.
Comprehensive
The Dowling Group considers the big picture: Your cash flow, estate, tax, and investment planning are all part of the equation, in every decision.
Other advisors are too specialized: Plans are typically centered around one advisor's area of expertise, without fully considering the crossover effects.
Agile
The Dowling Group keeps up with the times: As markets and laws change, so too will your financial plan. Investments will be adjusted to take advantage of new conditions.
Other advisors "set it and forget it": Most other financial plans lack flexibilty. Big changes may leave you suddenly exposed.
Financial Services We Provide In-House and by Referral
Our process considers all the major influences on your financial status; being independent advisors allows us to recommend best-of-breed solutions from a variety of sources, and to help you manage them all efficiently.
Wealth Management
Integrated Wealth Planning
Investment Management
Estate Planning
Trust Planning
Family Office Services
Philantropic & Charitable Giving
Tax Planning
Financing
Bill Paying & Bookkeeping
Trustee Services
Estate Administration
Financial Planning
Retirement Planning
Investment Planning
Investment Analysis
Mortgages/Refinances
Budget & Cash Flow Analysis
Tax Planning
Estate Planning
Bookkeeping
Accounting
Risk Management
Life Insurance
Health Insurance
Property Insurance
Casualty Insurance
Unemployment Insurance
Accident & Sickness Insurance
Home Insurance
Liability Insurance
Credit Insurance
Alternative
Auto Insurance
Investment Management
Individual Brokerage Accounts
Checking/Debit Card Accounts
Individual Retirement Accounts
IRA Rollover Accounts
Roth IRA Accounts
401(k) Rollover Accounts
Inherited IRA Accounts
Trust, Estate, Partnership Accounts
Corporate Accounts
Tax Efficient Strategies
Low Cost Strategies
Income Tax
Individual Income Tax Preparation (Form 1040)
Partnership Income Tax Preparation (Form 1065)
Corporate Income Tax Preparation (Forms 1120 & 1120S)
Trust & Estate Income Tax Preparation (Form 1041)
Estate Tax Preparation (Form 706)
Gift Tax Preparation (Form 709)
Tax Authority Representation
Tax Planning
Probate Accounting
---
Fees
Our services are billable at an hourly rate, a flat fee or as a percentage of assets under management. Fees are based on the nature and scope of the engagement. All engagements are mutually agreed upon before the commencement of any work.
Our Four-Step Wealth Management Process
Which would you choose: An investment plan that's based solely on what the market is doing now, or a plan that can adapt to what may happen in the next thirty to forty years?
Try to imagine the look on a child's face when you describe to him a world in which almost no one used a computer, but they did use the phone book, fly with TWA and Pan Am, and spend a few dimes at the local Woolworth's. Buckling your seat belt was optional. You probably rented your telephone and resented "Ma Bell". There was lots of worry about nukes — whether close to home or far away — and there was excitement around inventions like the space shuttle, cellular phones, cable TV, ATMs, and microwave popcorn. We've come a long way, baby.
At The Dowling Group, we believe that a sound financial plan needs to look beyond the next five or ten years; it needs to be adaptable to the almost unrecognizable world in which you and your family will find yourselves decades from now. Understanding how best to approach this problem is the core benefit we bring to you.
---
Step 1: Understanding Your Goals
First, we work with you to clarify your financial goals, priorities, and preferences. Based on this, we will prepare a personalized, written investment policy statement that outlines the strategies best suited to your needs.
Step 2: Building the Roadmap
Second, we develop an investment strategy that aligns with your lifestyle plan. We work to balance your allocation as the market changes and keep your portfolio aligned to your objectives.
Step 3: Executing the Strategy
Third, we implement the strategy through our institutional-level relationship with Fidelity Investments and Charles Schwab. Our clients are therefore entitled to these custodians' broad product selection at more favorable costs and account sizes than those available to typical individual investors.
Step 4: Monitoring Your Portfolio
On an ongoing basis, we monitor your portfolio to ensure it is on track toward your investment objectives. Fidelity and/or Schwab will send you an account statement each month, and we will send you a performance report every calendar quarter. As life events occur, such as a birth, death, or job change, we will revisit and update your strategies if necessary.
Our expertise; your opportunity. Find out how to optimize your financial strategy.
Start Today