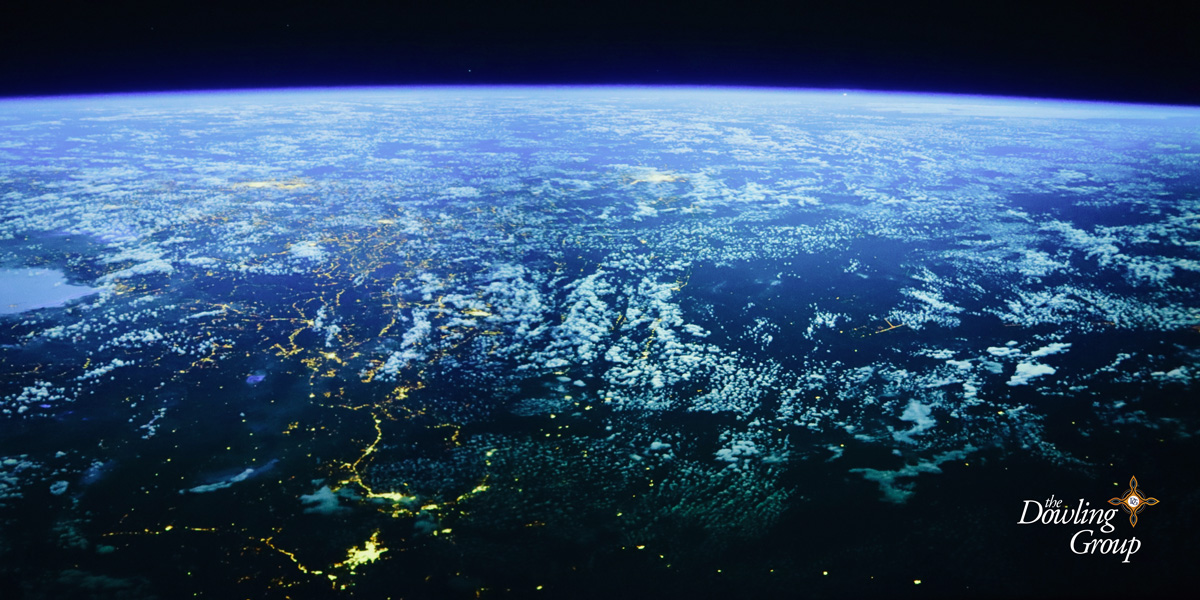 The Dowling Group Celebrates Climate Week
Climate Week NYC is underway! This year's conference covers over 500 events in New York City and around the world. Given our recent partnership with Ethic, which allows our clients to evaluate their portfolio against their personal values (including corporate efforts to address climate change and pollution), we're particularly interested to hear from political and business leaders regarding the improvements they plan to make.
If you feel similarly, and you'd like to take advantage of this new feature available to all Dowling Group clients, please reach out to your advisor or give us a call at 203‑967‑2231.
The Markets
It's open to interpretation.
Jackson Pollock was an action painter. He poured, dropped, and dripped paint onto horizontal canvases. Some people look at his work and wonder why it's highly valued. Others find deep meaning in the paintings. For instance, Pollock's Convergence is a collage of splattered colors that has been described as "the embodiment of free speech and freedom of expression… It was everything that America stood for all wrapped up in a messy, but deep package."
Today, gauging the state of the American economy is akin to interpreting abstract art. Many economic indicators suggest the economy remains strong despite the Federal Reserve's efforts to cool it off. For example:
Inflation is sticky. Last week's inflation report wasn't everything Americans hoped it would be. Overall, prices moved 8.3 percent higher over the 12-month period that ended in August. Core inflation, which does not include food and energy, moved higher from July to August. Taming inflation is the Federal Reserve (Fed)'s job.
Rates have been moving higher. As it works to tame inflation, the Fed is raising the federal funds rate at a rapid pace. Some are concerned that the Fed will make a policy mistake and raise rates too much, causing a recession. In August, Fed Chair Jerome Powell warned some pain may be ahead for the U.S. economy.
The labor market remained vibrant. Despite the Fed's efforts, U.S. employers added jobs last month and more Americans returned to the workforce. At the end of August, the unemployment rate was slightly higher at 3.7 percent, reported Megan Cassella of Barron's, which could mean Fed tightening is beginning to have an effect.
The manufacturing sector continued to grow, and so did the services sector. The Institute for Supply Management reported the Manufacturing Purchasing Manager's Index (PMI) and the Services PMI showed the economy expanded for the 27th consecutive month. Readings above 50 indicate economic growth. New orders were up in August, and prices were down.
Consumers were more optimistic. As gasoline prices dropped, the University of Michigan's Consumer Sentiment Index showed that consumer sentiment rose to a five-month high last week. That's not as positive as it may seem. Sentiment levels were comparable to those during the Great Recession, reported Alicia Wallace of CNN.
While economic data are open to interpretation, one thing is for sure: many investors are not happy. Retail investors remained strongly bearish last week, according to the AAII Sentiment Survey, and institutional investors had little appetite for risk. Some investors are making losses permanent by moving from equities to cash. Some are holding investments as they wait for the turmoil to end, and others are waiting patiently for opportunities to arise in the midst of market volatility.
Major U.S. stock indices moved lower last week, and U.S. Treasury yields moved higher across the yield curve.
| Data as of 9/16/22 | 1-Week | Y-T-D | 1-Year | 3-Year | 5-Year | 10-Year |
| --- | --- | --- | --- | --- | --- | --- |
| Standard & Poor's 500 Index | -4.8% | -18.7% | -13.4% | 8.9% | 9.1% | 10.2% |
| Dow Jones Global ex-U.S. Index | -1.7 | -21.9 | -23.6 | -1.0 | -1.1 | 1.5 |
| 10-year Treasury Note (yield only) | 3.5 | N/A | 1.3 | 1.8 | 2.2 | 1.8 |
| Gold (per ounce) | -2.9 | -8.5 | -4.8 | 3.6 | 4.9 | -0.6 |
| Bloomberg Commodity Index | -1.5 | 17.7 | 18.4 | 12.8 | 6.5 | -2.6 |
S&P 500, Dow Jones Global ex-US, Gold, Bloomberg Commodity Index returns exclude reinvested dividends (gold does not pay a dividend) and the three-, five-, and 10-year returns are annualized; and the 10-year Treasury Note is simply the yield at the close of the day on each of the historical time periods.
Sources: Yahoo! Finance, MarketWatch, djindexes.com, London Bullion Market Association.
Past performance is no guarantee of future results. Indices are unmanaged and cannot be invested into directly. N/A means not applicable.
Weekly Focus – Think About It
"We need the tonic of wildness… At the same time that we are earnest to explore and learn all things, we require that all things be mysterious and unexplorable, that land and sea be indefinitely wild, unsurveyed and unfathomed by us because unfathomable. We can never have enough of nature."
—Henry David Thoreau
Wishing you and your families well,
Sean M. Dowling, CFP, EA
President, The Dowling Group Wealth Management
Please feel free to forward this commentary to family, friends, or colleagues. If you would like us to add them to the list, please reply to this e-mail with their e-mail address and we will ask for their permission to be added.
---
Government bonds and Treasury Bills are guaranteed by the U.S. government as to the timely payment of principal and interest and, if held to maturity, offer a fixed rate of return and fixed principal value. However, the value of fund shares is not guaranteed and will fluctuate.
Corporate bonds are considered higher risk than government bonds but normally offer a higher yield and are subject to market, interest rate and credit risk as well as additional risks based on the quality of issuer coupon rate, price, yield, maturity, and redemption features.
The Standard & Poor's 500 (S&P 500) is an unmanaged group of securities considered to be representative of the stock market in general. You cannot invest directly in this index.
All indexes referenced are unmanaged. Unmanaged index returns do not reflect fees, expenses, or sales charges. Index performance is not indicative of the performance of any investment.
The Dow Jones Global ex-U.S. Index covers approximately 95% of the market capitalization of the 45 developed and emerging countries included in the Index.
The 10-year Treasury Note represents debt owed by the United States Treasury to the public. Since the U.S. Government is seen as a risk-free borrower, investors use the 10-year Treasury Note as a benchmark for the long-term bond market.
Gold represents the afternoon gold price as reported by the London Bullion Market Association. The gold price is set twice daily by the London Gold Fixing Company at 10:30 and 15:00 and is expressed in U.S. dollars per fine troy ounce.
The Bloomberg Commodity Index is designed to be a highly liquid and diversified benchmark for the commodity futures market. The Index is composed of futures contracts on 19 physical commodities and was launched on July 14, 1998.
The DJ Equity All REIT Total Return Index measures the total return performance of the equity subcategory of the Real Estate Investment Trust (REIT) industry as calculated by Dow Jones.
International investing involves special risks such as currency fluctuation and political instability and may not be suitable for all investors. These risks are often heightened for investments in emerging markets.
Yahoo! Finance is the source for any reference to the performance of an index between two specific periods.
Opinions expressed are subject to change without notice and are not intended as investment advice or to predict future performance.
Economic forecasts set forth may not develop as predicted and there can be no guarantee that strategies promoted will be successful.
Past performance does not guarantee future results. Investing involves risk, including loss of principal.
You cannot invest directly in an index.
Stock investing involves risk including loss of principal.
The opinions voiced in this material are for general information only and are not intended to provide specific advice or recommendations for any individual. All performance referenced is historical and is no guarantee of future results. All indices are unmanaged and may not be invested into directly. Economic forecasts set forth may not develop as predicted and are subject to change. Investing involves risk including loss of principal.
The Price-to-Earning (P/E) ratio is a measure of the price paid for a share relative to the annual net income or profit earned by the firm per share. It is a financial ratio used for valuation: a higher P/E ratio means investors are paying more for each unit of net income, thus, the stock is more expensive compared to one with a lower P/E ratio.
These views are those of Carson Group Coaching, and not the presenting Representative or the Representative's Broker/Dealer, and should not be construed as investment advice.
This newsletter was prepared by Carson Group Coaching. Carson Group Coaching is not affiliated with the named broker/dealer.
The foregoing information has been obtained from sources considered to be reliable, but we do not guarantee it is accurate or complete.
Consult your financial professional before making any investment decision.
Sources:
https://www.jackson-pollock.org/convergence.jsp
https://www.bls.gov/news.release/cpi.nr0.htm
https://www.ft.com/content/45ab5a45-6f32-49b3-be5d-9193071de970 (or go to https://resources.carsongroup.com/hubfs/WMC-Source/2022/09-19-22_Financial%20Times_The%20Fed%20Must%20Avoid%20Volckers%20Mistake%20on%20Inflation_3.pdf)
https://www.cnbc.com/2022/08/26/powell-warns-of-some-pain-ahead-as-fed-fights-to-lower-inflation.html
https://www.barrons.com/articles/august-jobs-report-today-51662072014 (or go to https://resources.carsongroup.com/hubfs/WMC-Source/2022/09-19-22_Barrons_Jobs%20Growth%20Slowed.%20Why%20That%20Could%20Be%20Good%20News_5.pdf)
https://www.prnewswire.com/news-releases/manufacturing-pmi-at-52-8-august-2022-manufacturing-ism-report-on-business-301615866.html
https://www.prnewswire.com/news-releases/services-pmi-at-56-9-august-2022-services-ism-report-on-business-301617838.html
https://www.cnn.com/2022/09/16/economy/umich-consumer-sentiment-september/index.html
https://www.aaii.com/sentimentsurvey
https://www.pmi.spglobal.com/Public/Home/PressRelease/1be12883a6a74557ab337415fbf46188
https://www.barrons.com/market-data?mod=BOL_TOPNAV (or go to https://resources.carsongroup.com/hubfs/WMC-Source/2022/09-19-22_Barrons_Overview%209.16_11.pdf)
https://home.treasury.gov/resource-center/data-chart-center/interest-rates/TextView?type=daily_treasury_yield_curve&field_tdr_date_value_month=202209
https://www.goodreads.com/quotes/16933-we-need-the-tonic-of-wildness-at-the-same-time-that
ADV & Investment Objectives: Please contact The Dowling Group if there are any changes in your financial situation or investment objectives, or if you wish to impose, add or modify any reasonable restrictions to the management of your account. Our current disclosure statement is set forth on Part II of Form ADV and is available for your review upon request.
It's a busy world. Our newsletter helps keep you tuned in to major market events, money-saving opportunities, filing deadlines, and other important information. One email per week and no spam — promise.
Subscribe