March 16, 2020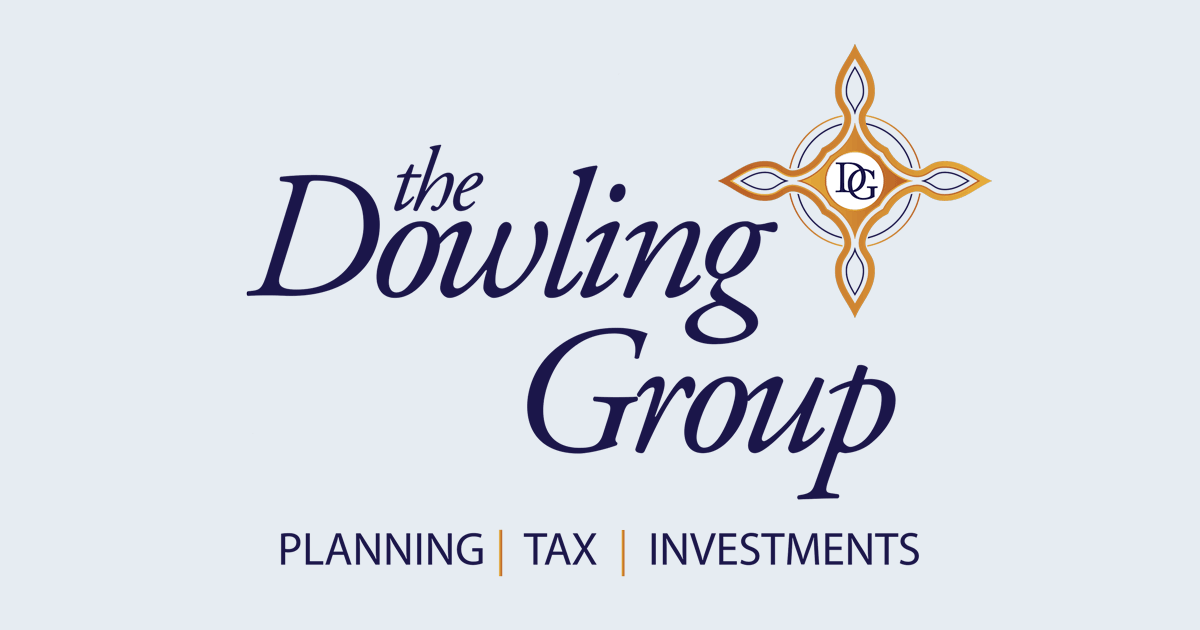 Tax Filing Deadline & Office Protocol
Dear Client,
I hope this email finds you and your families safe and healthy during this scary time.  All of us here at the Dowling Group are doing well and we wanted to give you an update on the following:
Tax Filing Deadline
Dowling Group Office Schedule and Operation Policy
Delivery of Tax Documents and Tax Returns
Investment Group and Client Portfolios
Tax Filing Deadline
As of the time of writing this to you Monday morning, the IRS and state authorities have not extended the deadline for filing or paying tax.  It is anticipated that they will provide extensions of filing and/or paying in some capacity.  There are bills already passed in the house providing tax relief and sick pay to employers and employees.  We will provide updates on this as these new laws go into effect.
As soon as we have insight into the filing requirements we will share these with you.  In the meantime please continue to send in your tax documents as we continue to operate on normal hours with some changes I will note below.
UPDATE: The Federal tax payment deadline was extended on March 17th.
Dowling Group Office Schedules and Operation Policy
We continue to operate as "normal" in all Dowling Group companies.  Our staff will be working remotely as of Monday, March 16th, but you likely won't even notice.  As we mentioned in previous emails, we had put in place continuity plans should we have to close the physical office in Greenwich.  We are going to close the physical office to clients and staff beginning today.
While the physical office is closed in accordance with state and federal guidance, staff will be available and working from home.  You can reach us via phone at 203.967.2231 or by email.  Our tax department will be on normal tax season hours (8am to 6pm) and our investment team will be fully operating on normal business hours (9am to 5pm).
Delivery of Tax Documents and Tax Returns
As we shared in past emails we have implemented Dropbox for secure digital delivery of your tax documents and tax returns.  Please email Katie@thedowlinggroup.com if you need a link to upload tax documents.  You can also mail them to us at 1171 E. Putnam Avenue, Suite 1B, Greenwich, CT 06878.  If neither of these methods work please email me or Katie and we can make arrangements to assist you.
Investment Group
Our investment team remains focused on the market volatility and client portfolios.  Do not hesitate to call us if you have any questions.  If you have any service requests, they can be directed to Stephen@thedowlinggroup.com or call him at 203.967.2231.
We encourage you to continue sending in your tax data for completion.  Our tax team continues to work diligently to complete your work.
I hope you all stay safe and healthy.  My hope is that we come away from this with fond memories of the time we got to spend at home with loved ones.  To that end we hope we are doing our small part to keep the virus at bay.
Best regards,
Sean M. Dowling, CFP, EA
President, The Dowling Group Wealth Management
Please feel free to forward this commentary to family, friends, or colleagues. If you would like us to add them to the list, please reply to this e-mail with their e-mail address and we will ask for their permission to be added.
---
Government bonds and Treasury Bills are guaranteed by the U.S. government as to the timely payment of principal and interest and, if held to maturity, offer a fixed rate of return and fixed principal value. However, the value of fund shares is not guaranteed and will fluctuate.
Corporate bonds are considered higher risk than government bonds but normally offer a higher yield and are subject to market, interest rate and credit risk as well as additional risks based on the quality of issuer coupon rate, price, yield, maturity, and redemption features.
The Standard & Poor's 500 (S&P 500) is an unmanaged group of securities considered to be representative of the stock market in general. You cannot invest directly in this index.
All indexes referenced are unmanaged. Unmanaged index returns do not reflect fees, expenses, or sales charges. Index performance is not indicative of the performance of any investment.
The Dow Jones Global ex-U.S. Index covers approximately 95% of the market capitalization of the 45 developed and emerging countries included in the Index.
The 10-year Treasury Note represents debt owed by the United States Treasury to the public. Since the U.S. Government is seen as a risk-free borrower, investors use the 10-year Treasury Note as a benchmark for the long-term bond market.
Gold represents the afternoon gold price as reported by the London Bullion Market Association. The gold price is set twice daily by the London Gold Fixing Company at 10:30 and 15:00 and is expressed in U.S. dollars per fine troy ounce.
The Bloomberg Commodity Index is designed to be a highly liquid and diversified benchmark for the commodity futures market. The Index is composed of futures contracts on 19 physical commodities and was launched on July 14, 1998.
The DJ Equity All REIT Total Return Index measures the total return performance of the equity subcategory of the Real Estate Investment Trust (REIT) industry as calculated by Dow Jones.
International investing involves special risks such as currency fluctuation and political instability and may not be suitable for all investors. These risks are often heightened for investments in emerging markets.
Yahoo! Finance is the source for any reference to the performance of an index between two specific periods.
Opinions expressed are subject to change without notice and are not intended as investment advice or to predict future performance.
Economic forecasts set forth may not develop as predicted and there can be no guarantee that strategies promoted will be successful.
Past performance does not guarantee future results. Investing involves risk, including loss of principal.
You cannot invest directly in an index.
Stock investing involves risk including loss of principal.
The opinions voiced in this material are for general information only and are not intended to provide specific advice or recommendations for any individual. All performance referenced is historical and is no guarantee of future results. All indices are unmanaged and may not be invested into directly. Economic forecasts set forth may not develop as predicted and are subject to change. Investing involves risk including loss of principal.
The Price-to-Earning (P/E) ratio is a measure of the price paid for a share relative to the annual net income or profit earned by the firm per share. It is a financial ratio used for valuation: a higher P/E ratio means investors are paying more for each unit of net income, thus, the stock is more expensive compared to one with a lower P/E ratio.
These views are those of Carson Group Coaching, and not the presenting Representative or the Representative's Broker/Dealer, and should not be construed as investment advice.
This newsletter was prepared by Carson Group Coaching. Carson Group Coaching is not affiliated with the named broker/dealer.
The foregoing information has been obtained from sources considered to be reliable, but we do not guarantee it is accurate or complete.
Consult your financial professional before making any investment decision.
ADV & Investment Objectives: Please contact The Dowling Group if there are any changes in your financial situation or investment objectives, or if you wish to impose, add or modify any reasonable restrictions to the management of your account. Our current disclosure statement is set forth on Part II of Form ADV and is available for your review upon request.
It's a busy world. Our newsletter helps keep you tuned in to major market events, money-saving opportunities, filing deadlines, and other important information. One email per week and no spam — promise.
Subscribe