March 12, 2020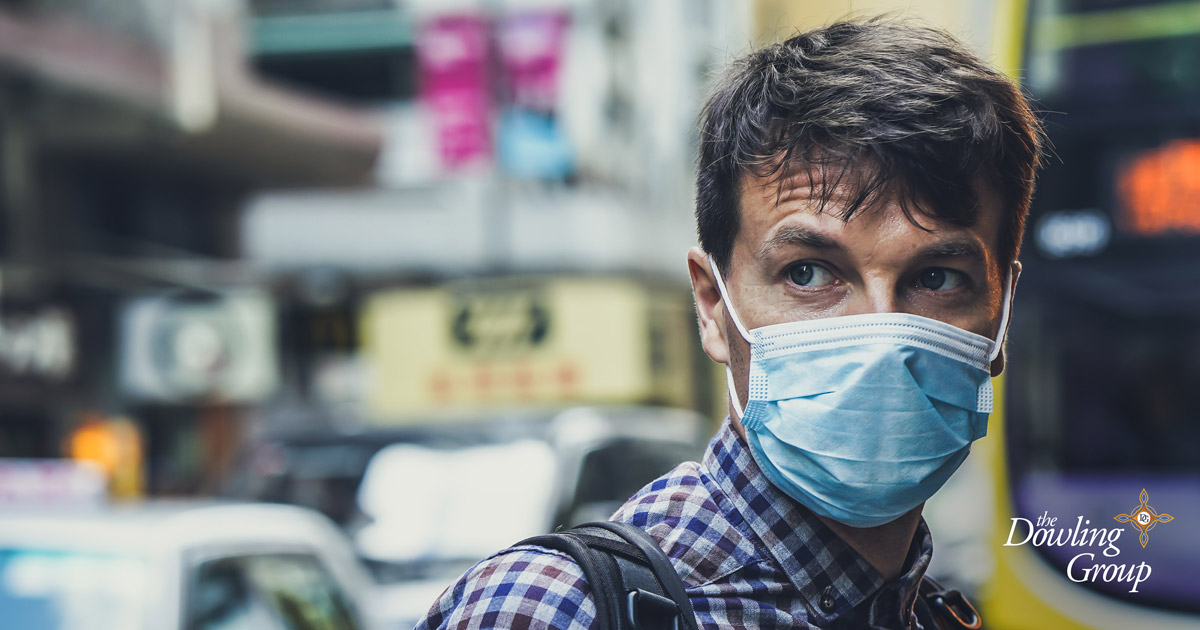 Our Coronavirus Action Plan
Routines are an essential part to daily life. Every animal, human, or otherwise, has a routine to function normally whether it be going to the local coffee shop or hunting for food during certain hours. Prolonged disturbances in these routines may cause panic, chaos, and anxiety. This uncertainty surrounding COVID-19, OPEC, and the Federal Reserve's latest rate cut is causing market volatility and selloff.
As we have previously mentioned, in the fourth quarter of 2019, the Dowling Group portfolio managers adjusted our client portfolios in anticipation of the coming volatility in the markets. We consider research from top analyst, economic data points, and recommendations from our portfolio managers when we make these portfolio changes.
As Richard Thaler, PhD states in his book Misbehaving: The Making of Behavioral Economics, "Whenever anyone asks me for investment advice, I tell them to buy a diversified portfolio heavily tilted toward stocks, especially if they are young, and then scrupulously avoid reading anything in the newspaper aside from the sports section."
With that said, here are our insights and action plan:
Stay calm. We have been through market corrections many times in our 41 years as professional money managers. Life will return to normal and the markets will once again go up.
The Dowling Group sees value and opportunity in the market in the near future. We are not ready to buy anything today but when the panic subsides, we will look for opportunity. We will also rebalance appropriately when the dust settles which allows us to bring the portfolios back into their proper allocations while buying discounted stock.
Benjamin Graham, considered to be the father of value investing, and a mentor to Warren Buffet insisted, "Intelligent investors don't need superior intellect, training or expertise. Instead, intelligence consists of patience, independence and self-control. You don't have to let Mr. Market do the thinking for you. The true investor scarcely ever is forced to sell his shares, and at all other times he is free to disregard the current price quotation."
We stay the course during the turbulent times and keep in mind that we try not to be speculative investors. Therefore, sticking to your long-term investment plan that is built to withstand the short-term volatility is crucial at this time. The markets always bounce back. Breathe. Don't succumb to panic, it is the enemy of investing.
We believe that there will be a "U-Shaped Recovery" that will happen as order is restored and nerves are calmed. Simply put, this is a decline in the markets, followed by a gradual rise back. The market charts resemble a U.
We couldn't predict that it would be the coronavirus, but we did plan for something like this. We have contingency plans in place to assure business continuity. These include redundant data storage and the ability to work remotely from anywhere. In fact, many of our staff already work from home to some extent.
For now, we intend to continue working primarily from our Greenwich office. We are disinfecting thoroughly and will maintain normal business hours.
As you already know, we have the ability to send and receive documents securely through Dropbox as well as eMoney. We can schedule video conferences and phone meetings if you prefer to stay at home and use our digital data transfer tools. And there is good old fashioned mail if you don't like any of the other options. Please let us know how we can help to make it as easy as possible for you.
Until the full effect of COVID-19 is known, markets may remain volatile. If you're feeling unnerved, please give us a call at 203‑967‑2231. We're happy to talk with you and help you decide on a course of action that is best for you.
Best regards,
Sean M. Dowling, CFP, EA
President, The Dowling Group Wealth Management
Please feel free to forward this commentary to family, friends, or colleagues. If you would like us to add them to the list, please reply to this e-mail with their e-mail address and we will ask for their permission to be added.
---
Government bonds and Treasury Bills are guaranteed by the U.S. government as to the timely payment of principal and interest and, if held to maturity, offer a fixed rate of return and fixed principal value. However, the value of fund shares is not guaranteed and will fluctuate.
Corporate bonds are considered higher risk than government bonds but normally offer a higher yield and are subject to market, interest rate and credit risk as well as additional risks based on the quality of issuer coupon rate, price, yield, maturity, and redemption features.
The Standard & Poor's 500 (S&P 500) is an unmanaged group of securities considered to be representative of the stock market in general. You cannot invest directly in this index.
All indexes referenced are unmanaged. Unmanaged index returns do not reflect fees, expenses, or sales charges. Index performance is not indicative of the performance of any investment.
The Dow Jones Global ex-U.S. Index covers approximately 95% of the market capitalization of the 45 developed and emerging countries included in the Index.
The 10-year Treasury Note represents debt owed by the United States Treasury to the public. Since the U.S. Government is seen as a risk-free borrower, investors use the 10-year Treasury Note as a benchmark for the long-term bond market.
Gold represents the afternoon gold price as reported by the London Bullion Market Association. The gold price is set twice daily by the London Gold Fixing Company at 10:30 and 15:00 and is expressed in U.S. dollars per fine troy ounce.
The Bloomberg Commodity Index is designed to be a highly liquid and diversified benchmark for the commodity futures market. The Index is composed of futures contracts on 19 physical commodities and was launched on July 14, 1998.
The DJ Equity All REIT Total Return Index measures the total return performance of the equity subcategory of the Real Estate Investment Trust (REIT) industry as calculated by Dow Jones.
International investing involves special risks such as currency fluctuation and political instability and may not be suitable for all investors. These risks are often heightened for investments in emerging markets.
Yahoo! Finance is the source for any reference to the performance of an index between two specific periods.
Opinions expressed are subject to change without notice and are not intended as investment advice or to predict future performance.
Economic forecasts set forth may not develop as predicted and there can be no guarantee that strategies promoted will be successful.
Past performance does not guarantee future results. Investing involves risk, including loss of principal.
You cannot invest directly in an index.
Stock investing involves risk including loss of principal.
The opinions voiced in this material are for general information only and are not intended to provide specific advice or recommendations for any individual. All performance referenced is historical and is no guarantee of future results. All indices are unmanaged and may not be invested into directly. Economic forecasts set forth may not develop as predicted and are subject to change. Investing involves risk including loss of principal.
The Price-to-Earning (P/E) ratio is a measure of the price paid for a share relative to the annual net income or profit earned by the firm per share. It is a financial ratio used for valuation: a higher P/E ratio means investors are paying more for each unit of net income, thus, the stock is more expensive compared to one with a lower P/E ratio.
These views are those of Carson Group Coaching, and not the presenting Representative or the Representative's Broker/Dealer, and should not be construed as investment advice.
This newsletter was prepared by Carson Group Coaching. Carson Group Coaching is not affiliated with the named broker/dealer.
The foregoing information has been obtained from sources considered to be reliable, but we do not guarantee it is accurate or complete.
Consult your financial professional before making any investment decision.
Sources:
https://www.ft.com/content/e0a8cf67-896e-3b0c-89ce-03e43581008d (or go to https://peakcontent.s3-us-west-2.amazonaws.com/Peak+Documents/Apr_2020_FinancialTimes-Coronavirus-WHO_Escalates_Risk_Assessment_of_COVID-19_to_Very_High-Footnote_1.pdf)
https://www.axios.com/coronavirus-recession-warnings-9eb743aa-2fd2-47ac-9e85-19ff54a07d3c.html
https://www.marketwatch.com/story/consumer-spending-is-still-rising-steadily-but-coronavirus-looms-as-potential-brake-2020-02-28
https://www.who.int/dg/speeches/detail/who-director-general-s-remarks-at-the-media-briefing-on-covid-2019-outbreak-on-17-february-2020
https://www.economist.com/finance-and-economics/2020/02/27/markets-wake-up-with-a-jolt-to-the-implications-of-covid-19 (or go to https://peakcontent.s3-us-west-2.amazonaws.com/Peak+Documents/Apr_2020_TheEconomist-Markets_Wake_Up_with_a_Jolt_to_the_Implications_of_COVID-19-Footnote-5.pdf)
https://www.imf.org/en/News/Articles/2020/02/22/pr2061-remarks-by-kristalina-georgieva-to-g20-on-economic-impact-of-covid-19
https://www.bloomberg.com/news/articles/2020-02-26/yellen-says-coronavirus-could-throw-u-s-economy-into-recession
https://www.axios.com/stock-market-correction-coronavirus-wall-street-c5b391d6-41f8-4430-89e6-41edad4820c8.html
https://www.investopedia.com/terms/c/correction.asp
http://www.yardeni.com/premiumdata/mb_181015.pdf
https://www.investopedia.com/terms/b/bearmarket.asp
https://www.scmp.com/video/china/3052932/coronavirus-covid-19-cases-continue-decline-china-global-epidemic-widens
https://www.multpl.com/s-p-500-pe-ratio
https://www.multpl.com/s-p-500-pe-ratio/table/by-year
https://www.marketwatch.com/story/former-fed-gov-warsh-argues-for-immediate-globally-coordinated-rate-cut-2020-02-27
ADV & Investment Objectives: Please contact The Dowling Group if there are any changes in your financial situation or investment objectives, or if you wish to impose, add or modify any reasonable restrictions to the management of your account. Our current disclosure statement is set forth on Part II of Form ADV and is available for your review upon request.
It's a busy world. Our newsletter helps keep you tuned in to major market events, money-saving opportunities, filing deadlines, and other important information. One email per week and no spam — promise.
Subscribe