December 21, 2018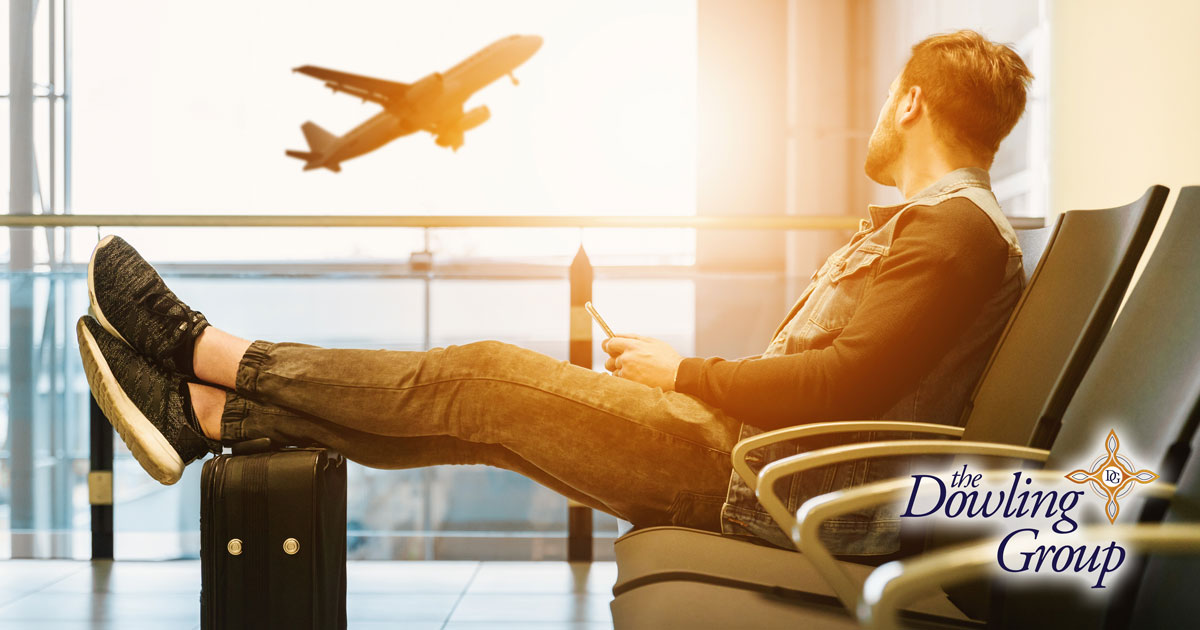 Holiday Travel Tips: What To Do If Your Flight Is Cancelled
Your flight getting canceled is a pain, but doesn't have to be a disaster.
With winter weather already blowing in, travel can get complicated. And considering the number of people affected on the busiest travel days of the year, it's probable that at some point you—or someone you know—will get hit with a flight delay or cancellation.
Don't panic, make a scene, or get obnoxious with airline personnel.
They have no control over what happened to you, and are dealing with a couple hundred other people (at minimum) in your exact same situation. Be kind—to yourself, to airline staff, and to fellow passengers. And don't be fooled: The rude passenger gets rebooked last—and in a middle seat, not an upgrade.
Call the airline while you wait in line to speak to an agent on-site.
If you're a member of the airline's miles program, or have an associated credit card, call the special contact number on the back of your card. You may get through sooner and get better treatment than you would from harried employees at the airport. You can also try to rebook your flight online.
Know your rights when travelling abroad.
Depending on the duration of your flight, and where it originates, you have certain rights if the flight falls through. Be aware, though, because sometimes even airline employees aren't completely informed about what they owe passengers. You may have to bring up the airline's own webpage on your smartphone, or be able to show them in-country regulations. For flights originating in the European Union, or arriving in the European Union on a European carrier, passengers have the right to meal and/or hotel vouchers for flights that are delayed three hours or more. If the delay is five hours or more, passengers can also get a refund. And if the flight is canceled, passengers have the right to alternate transportation in lieu of a refund. In some circumstances, passengers may also have the right to additional compensation, such as financial compensation of $250 –$500. This depends on the distance flown, and does not apply to flights delayed due to extraordinary circumstances, such as bad weather. In the United States your rights vary from carrier to carrier, but Federal rules guarantee your right to a refund or a reroute.
Check for free changes ahead of time.
When severe weather is about to strike, airlines often give you the option to change to another day ahead of time, free of charge. These notices usually get posted a day or two before the weather event on the carriers' travel alerts pages. Check early and you'll beat the rush for the first seats after the storm clears.
Get creative.
If you need to get somewhere in a hurry, consider rebooking with another airline, flying into a different destination, making more connections, or even transferring to and flying out from a nearby airport. Make sure you keep your airline informed, so you can have your luggage delivered to your final destination and so you don't get booted off your return flight. (They may try to bump you off the return anyway, but if you keep them informed you stand a better chance of avoiding this.)
Trade your time for free travel.
If you're not in a hurry, offer to be last in line—for a price. Tell staff you're willing to wait on standby as long as it takes, in exchange for miles or credit. Make sure to negotiate hotel and food vouchers to keep you comfortable during your wait, especially if you're not at home.
And finally, two things you should really do before you travel, just in case:


Download and use the airline's app. I know, I know, who needs yet another app? Still, while you're traveling, the app will help you keep track of delays and cancellations, and may allow you to rebook your own flight.
Buy insurance. Shop for third-party travel insurance that covers travel delays, so that when you get stuck somewhere, you don't have the worry about the extra expense on top of everything else. With most policies, after a small co- pay, incidental costs (hotel, food, transportation, lost luggage) are covered.
Whether or not you're traveling this year, all of us at The Dowling Group wish you and your family a very happy holiday. We look forward to serving you in 2019!
Best regards,
Sean M. Dowling, CFP, EA
President, The Dowling Group Wealth Management
Please feel free to forward this commentary to family, friends, or colleagues. If you would like us to add them to the list, please reply to this e-mail with their e-mail address and we will ask for their permission to be added.
---
ADV & Investment Objectives: Please contact The Dowling Group if there are any changes in your financial situation or investment objectives, or if you wish to impose, add or modify any reasonable restrictions to the management of your account. Our current disclosure statement is set forth on Part II of Form ADV and is available for your review upon request.
It's a busy world. Our newsletter helps keep you tuned in to major market events, money-saving opportunities, filing deadlines, and other important information. One email per week and no spam — promise.
Subscribe