Build a Portfolio That's Better Aligned With Your Unique Values: the Dowling Group × Ethic
The Dowling Group, a tax, planning, and investment firm rooted in Greenwich since 1979, now offers its clients the ability to align their personal values with their investment portfolios. Clients of the Dowling Group will now be able to evaluate and modify their investment portfolios in support of critical issues such as climate change, women's rights, racial justice, corporate ethics, and more.
By partnering with Ethic, a tech-driven asset manager, the Dowling Group team can now help clients to identify which companies in their portfolios are alleviating or exacerbating the issues they care about most. The collaboration further strengthens the Dowling Group's focus on tax reduction strategies within portfolios.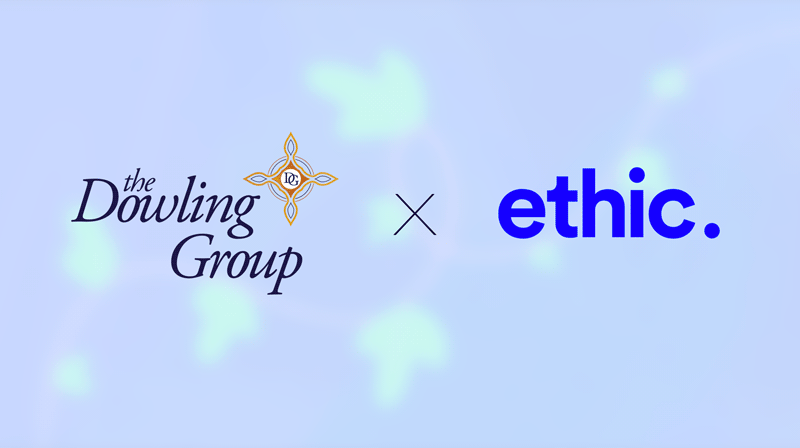 "Our communities have done so much to make each of us what we are, so we have to pay it back," said Sean Dowling, President of the Dowling Group. "Over the years we've been fortunate to be involved in community events that bring us together. Through sponsorships and volunteering we have been able to raise awareness for children's education, women and children's rights and animal welfare.
"Now, we're taking the next step by partnering with Ethic. This partnership will enable our clients to better align their investments with their unique values. We are voting with our wallets by choosing to only invest in ethical and profitable companies. Ethic's technology also allows us to amplify tax savings within client portfolios. We will be able to report on the tangible impact the portfolio is having on our world while still being able to give traditional performance metrics."
Existing clients can take advantage of this new opportunity immediately. Prospective clients are encouraged to schedule a free consultation by calling the Dowling Group at 203-967-2231 or by visiting https://theDowlingGroup.com.
About The Dowling Group
Founded in 1979, the Dowling Group is comprised of a team of financial experts providing wealth, tax, and investment advisory services. The firm serves both individuals and businesses, including catering to the special concerns of families and high net worth clients.
Sean M. Dowling, CFP®, President of the Dowling Group, has been repeatedly named a "Top Wealth Manager" since 2013 by Westchester Magazine. Sean has authored several articles on wealth management and tax planning and has been quoted in media outlets such as MSNBC, Research Magazine, Greenwich Time, Bankrate and the Fairfield County Business Journal. He is also a frequent guest speaker on taxation and investment planning at community venues, radio and internet broadcasts. The Dowling Group is located at 1171 E. Putnam Ave, Greenwich, CT 06878 and on the web at https://theDowlingGroup.com
About Ethic
Ethic is a tech-driven asset management platform that powers personalization for financial intermediaries. Its scalable technology platform enables the creation of custom direct indexing portfolios that reflect clients' values, financial goals, and tax preferences. Ethic also offers an array of supplemental features, including transparent impact reporting and educational materials, that position financial professionals to lead meaningful conversations around sustainability.
The Ethic offering is available to advisors custodying with Fidelity, Charles Schwab / TD Ameritrade, U.S. Bank, Northern Trust, Morgan Stanley, or Pershing. The company is backed by investors including Oak HC/FT, Nyca Partners, Fidelity Investments, UBS, Jordan Park Group, Sound Ventures, Urban Innovation Fund and Kapor Capital. Ethic is an SEC Registered Investment Adviser based in New York City.
It's a busy world. Our newsletter helps keep you tuned in to major market events, money-saving opportunities, filing deadlines, and other important information. One email per week and no spam — promise.
Subscribe